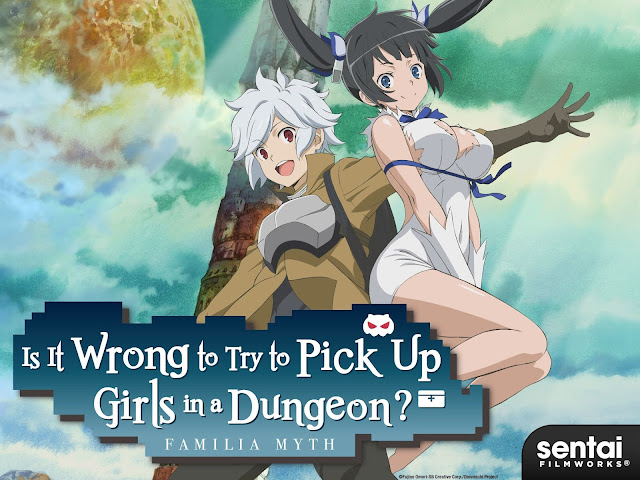 DanMachi Season 1 + 2 + 3 + 4 Subtitle Indonesia
Donlod nonton streaming video, otakudesu, meownime, anitoki, meguminime, melody, oploverz, anoboy, nimegami, unduh, riie net, drivenime, kusonime, neonime, maxnime, animeindo, neonime, samehadaku, streaming, otakupoi, awsubs, anibatch, anikyojin, nekonime, kurogaze, vidio google drive, Muse Indonesia.iQIYI, Viu Muse Indonesia, Ani-One Asia, Netflix, Animenonton, Otaku desu, Mangaku, Anibatch,Vidio, Genflix, Amazon Prime Video.
Informasi Anime
Judul :

Dungeon ni Deai wo Motomeru no wa Machigatteiru Darou ka

Episodes :

1 s/d 13

Studio :

J.C.Staff

Source :

Light Novel

Durasi :

24 Menit

Genre :

Action, Adventure, Comedy, Romance, Fantasy

Score :

7.8
Synopsis Dungeon ni Deai wo Motomeru no wa Machigatteiru Darou ka
Dungeon ni Deai wo Motomeru no wa Machigatteiru Darou ka atau dikenal DanMachi, Is It Wrong That I Want to Meet You in a Dungeon adalah seri novel ringan Jepang yang ditulis oleh Fujino Ōmori dan diilustrasikan oleh Suzuhito Yasuda. SB Creative telah menerbitkan lima belas volume sejak Januari 2013 di bawah cetakan GA Bunko mereka. Ini telah menerima dua adaptasi manga serta adaptasi televisi anime oleh JCStaff, yang ditayangkan dari 4 April hingga 27 Juni 2015. Sebuah OVA dirilis pada 7 Desember 2016. Musim anime kedua dan adaptasi Movie keduanya diumumkan pada Februari 2018. Film yang berjudul Is It Wrong To Pick Up Girls in a Dungeon ?: Arrow of the Orion ditayangkan perdana pada 15 Februari 2019. Musim kedua ditayangkan mulai 13 Juli hingga 28 September 2019. Musim anime ketiga dan episode OVA, keduanya diumumkan pada 27 September 2019. Musim ketiga akan tayang pada Juli 2020. Menceritakan Kehidupan di kota Orario yang ramai tidak pernah membosankan, terutama bagi Bell Cranel, seorang pemuda naif yang berharap untuk menjadi petualang terhebat di negeri ini. Setelah pertemuan kebetulan dengan dewi kesepian, Hestia, mimpinya menjadi sedikit lebih dekat dengan kenyataan. Dengan dukungannya, Bell memulai pencarian fantastis saat ia menjelajah jauh di dalam katakombe yang dipenuhi monster kota, yang hanya dikenal sebagai "Dungeon". Kematian mengintai di setiap sudut di kedalaman gua labirin yang menakutkan ini, dan kekuatan misterius bergerak di tengah-tengah bayang-bayang. Bahkan di permukaan, bertahan hidup adalah hak istimewa yang diperoleh dengan susah payah. Memang, tidak ada yang pasti di dunia di mana para dewa dan manusia hidup dan bekerja bersama, terutama ketika mereka sering berjuang untuk rukun. Namun satu hal yang pasti: segudang kesalahan, kemenangan, dan pertemanan menanti sang protagonis yang optimistis dan berani dari kisah raksasa ini.
Tampilkan Komentar